Latest...
Our latest SHEEP WORMING PLANNER is available now.. Use it as a guide and call us if you have any questions.
Flock Performance Indicator Data Capture Form - copy available here
------------------------------------------------------------------------------------------------------------------------------------------------------------------
We have a wide range of experience in caring for the variety of sheep enterprises in the South West. We conduct individual flock health meetings throughout the year to ensure that best practice is in place before the tupping and lambing seasons, as well as offering advice on growing lamb care, based around disease control and other health issues. All the usual health care essentials are also catered for in respect to worming, vaccination policies and fire-brigade work.
We have recently set up a new Sheep Discussion Group aimed at larger flocks, to encourage a more pro-active approach to health planning. If you would like to attend or receive more details of upcoming meetings please contact the office on 01666 823035.
Organic production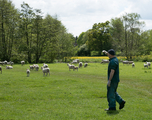 We are aware of the different challenges facing our organic clients, and are experienced in working within the organic regulations. The practice's focus on preventative medicine ties in closely with the organic principles, and it is an approach we encourage on all farms, organic and conventional.

Cathy Morris has many years experience in homeopathy and is able to advise and dispense suitable remedies.
Pharmacy
The George Veterinary Group operates farm animal pharmacy based at Malmesbury, from where all medication is dispensed. We keep a ready supply of all commonly used products, and a daily delivery service means we can have anything in stock within 24 hours.
We also have several daily deliveries to our branch surgeries at Royal Wootton Bassett, Tetbury and also to Belmont Veterinary clinic in Pewsey. Following the merger of our farm departments in 2007, we have a daily delivery of pre-ordered drugs to the Rowe Veterinary Group office in Wootton-under-Edge, and onwards to their branch surgeries at Yate, Bradley Stoke and Thornbury.
In-house laboratory
The practice has a fully equipped laboratory where we are able to perform a wide variety of diagnostic techniques. Blood and faecal tests, including worm egg and coccidial counts are among some of the many we can carry out in-house.